Spain
La Concha, San Sebastián
It's the Chrysler Building of beaches: instantly recognisable but nevertheless thrilling and heart-lifting. La Concha is the most beautiful urban beach in Spain: a scallop of cream sand and sparkling sapphire waters with forested headlands, an island – Santa Clara – and a peppering of boats. The belle-époque seafront dates back to days of long summer residencies, when children ate separately and hotels were plushly carpeted; but today's city is vibrant and cool. La Concha is flanked by two smaller beaches: Ondarreta is almost a continuation to the west (ending in Eduardo Chillada's Wind Comb sculpture); Zurriola, beyond the Kursaal Palace in Gros, is popular with surfers.
Stay La Pensión del Mar (doubles from €45 room-only) also in Gros, is friendly and affordable. For a few euros more, Sansebay (doubles from €70 room only) offers contemporary chic and La Concha views.
El Rompido, Huelva, Andalucía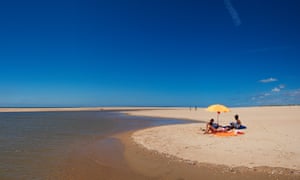 Huelva's Costa de La Luz ranges from Spanish all-inclusives near the Portuguese border to wild dunes in the east. Midway, around El Rompido, there's something reminiscent of olden-day Devon: golden, loved and tidy, with golf, and bucket and spade shops, trimmed hedges, and low-rise hotels serving buffet meals. The beach is long, with icing-sugar sand, backed by pines and trails, and dotted with chiringuitos (beach bars) providing shade and plates of famous Huelva prawns. The sea is calm, thanks to the star attraction, a glorious 12km spit – La Flecha – Flechamar ferry (April-October). Pristine, with a spine of dunes, it has two more beaches (including a nudist area) but no facilities.
Stay A few kilometres west, Hotel Nuevo Portil Golf (doubles from €60 B&B) combines top location with bargain prices.
Playa de los Muertos, Almería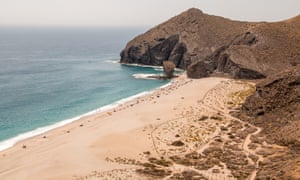 The arid, rocky, Cabo de Gata nature reserve has many spectacular beaches, but this one's dramatic setting, kilometre of soft sand, crystalline turquoise water and wealth of fish and rock formations to snorkel over, more than make up for the name (beach of the dead) and the short, steep path – or a longer less vertiginous one – down to the shore. In high season, vendors sell cold drinks but that's about it, so go prepared. Access, and a mirador (lookout), are off the AL-5106. Follow the road west and you arrive at Agua Amarga, a barefoot sophisticated gem of a seaside town.
Stay Hotel Las Calas (doubles from €65 B&B), with its palms, pergolas and sea views, is an affordable seaside treat.
Playa de Poo, Llanes, Asturias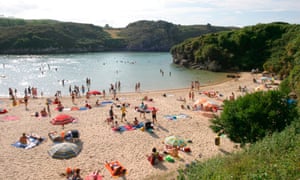 Continuing – nay, encapsulating – the theme of great beaches with unfortunate names, is Poo. Surfers are spoilt for choice on the north coast, but elemental forces that whip up the waves also carve out stunning, protected enclaves. This sandy haven on an estuary is contained by high rock walls, rendering it both calm and fascinating. At low tide, there is virtually no sea in sight; at high tide, it's an emerald pool, clean, warm and shallow. Coastal paths through farmland lead to more beaches and, at low tide, Isla de Almenada. It's a laid-back option, ideal for families with small children.
Stay La Farola del Mar (doubles from €55 B&B in low season) sits right on the beach. For more of a design ethos, the award-winning turf-roofed, modernist CaeaClaveles (doubles from €95 room only) is 10 minutes' drive away.
Aiguablava, Begur, Girona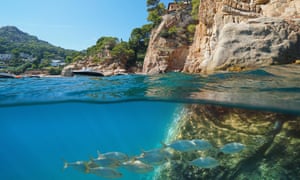 This small beach with clear green-blue water, white sand, and places to eat, drink and dive, is further enhanced by the fact it's one of eight coves – all with various merits (sheltered, natural, nudist and more) strung like charms from the coastal footpath, the Camí de Ronda, below Begur. The path has four sections, and Aiguablava is at the south of the most southerly, linked to neighbouring Fornells and Platja Fonda (secluded at the base of cliff steps).
Stay Hostal Sa Barraca (doubles from €67 room-only, sabarraca.com), with sea views from garden, terrace and rooms, is a relaxing option, 2km inland from Fornells.
Spanish beaches chosen by Sorrel Downer
Portugal
Porto Côvo, Costa Vicentina, Alentejo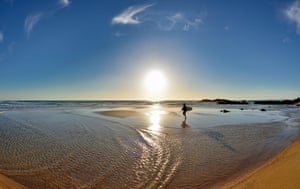 Protected by a ring of rugged cliffs, Porto Côvo's tranquil horseshoe bay once provided a haven for fishermen. The nearby town lives largely from tourism these days, but its cobbled streets and whitewashed cottages hark back to an age when rowing boats and fishing nets lined the shore. On the Alentejo's wild, south-western coast, Porto Côvo is a popular spot for hiking – try the marked circular trail inland or hit the stunning clifftop Fisherman's Trail to Vila Nova de Milfontes.
Stay The three-room Cabeça da Cabra guesthouse (doubles from €85 room-only), in a converted primary school, is charming.
Nazaré, Costa de Prata
Ever seen a video clip of crazy surfers towed out by jet ski and deposited on waves the size of 10-storey buildings? If so, it was probably shot at Nazaré. A mecca for the world's best (and most bonkers) surfers, the huge swells here make for an eyewatering spectacle. But it's not all Point Break madness: the main beach also has plenty of space for relaxing in the sun. For a terrific view of the ocean, take the funicular railway to the clifftop settlement of O Sitio, Nazaré's old town. A short drive to the south, the beach at Peniche offers a slightly quieter, less daunting surfing experience.
Stay Surfer-friendly Zulla has single, double and shared rooms from €20.
Praia da Falésia, Algarve
It takes a good couple of hours to walk from one end of soft, sandy Praia da Falésia to the other. Fortunately, the route has plenty of excellent beachside bars and seafood restaurants to keep you going. Fresh sardines and cold beer aren't the only reason to dally, however. At low tide, it's possible to hunt for conquilhas (small clams) in the shallows. White sand lilies flower at the base of the beach's distinctive, burnished-red cliffs. Those with energy left can check out the surf schools at the eastern end of beach.
Stay Package hotels tend to dominate this coast, so venture inland a little to restored farmhouse Casa Porta Azul (doubles from €65 B&B).
Praia da Foz do Minho, Caminha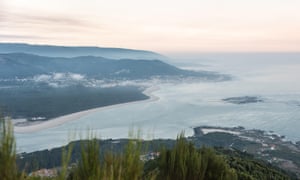 On Portugal's northern border with Spain, Praia da Foz do Minho's riverine shallows offer a respite from the crashing waves of the Atlantic. In the pyramidic shape of Santa Tecla mountain, it boasts one of the most stunning backdrops of any beach in the world. A stroll through the pine forest leads to the attractive ocean beach of Moledo; and a little way out to sea is a remarkable 17th-century island fortress, another feast for the eyes.
Stay For a great view of the river, try charming, turn-of-the-century Villa Idalina hotel (doubles from €70 B&B), a few kilometres upriver.
Praia dos Galapinhos, Setúbal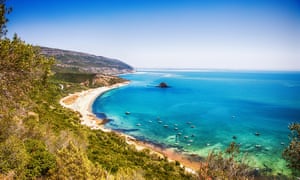 If it was paradise that Portugal's early explorers set off across the oceans to find, they could have saved themselves a journey. Because in Praia dos Galapinhos, they had the real deal right on their doorstep: white sands, forested hillsides, crystalline waters, empty space, stunning sunsets. There's just one (minor) downside: access is via a rocky, vertiginous path or, at low-tide, an athletic shoreline scramble. The upside, of course, is that the beach is far less busy than it should be. Pack everything you need because opportunities for replenishment are minimal.
Stay Casa d'Adôa (doubles from €60 room-only) offers a quiet, classy stay.
Portuguese beaches chosen by Oliver Balch
France
L'Herbe, Cap Ferret, Gironde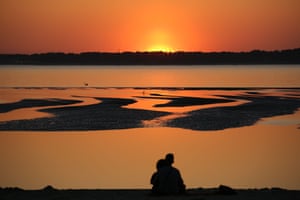 The skinny peninsula that curls around the Bay of Arcachon is a playground for people from Bordeaux and Paris, but also home to dozens of working oyster farms. In the village of L'Herbe, alleys separate the clapboard oyster farmers' cabins, and the tiny beach is overlooked by several oyster bars and the Robinson Crusoe-esque gazebo of Kykouyou restaurant. It's ideal for a paddle after you've washed a few freshly caught crustaceans down with a chilled white wine.
Stay There are small holiday lets in the grounds of villas all over Cap Ferret. Le Patio de l'Herbe (from €110 a night) has two small doubles and a kitchen.
Plage de la Grève Blanche, Île de Batz, Brittany
A ferry runs from Roscoff to the Île de Batz, a pretty island of blue-shuttered granite cottages and rolling fields. There are bikes for hire for scooting to the east of the island, where the white sand of Plage de la Grève Blanche is lapped by turquoise water. Behind it is the Georges Delaselle botanical garden, where plants from the southern hemisphere thrive in the climate afforded by the Gulf Stream.
Stay By the harbour in Roscoff, Chez Janie (doubles from €69 room-only) has a good restaurant and bar.
Les Grenettes, Île de Ré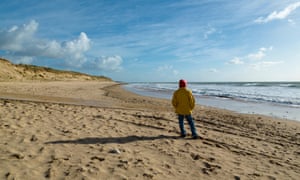 The bucolic island of white-washed villages and abundant hollyhocks has more than its share of good beaches, but one of the best is Les Grenettes, near the sleepy village of Sainte-Marie-de-Ré. The long beach looks out to the neighbouring Île d'Oléron and is backed by fragrant pine trees; it's a mix of golden sand and rounded pebbles, perfect for lobbing into the tumbling waves. Take along a surf or bodyboard if you want to tumble in the waves yourself: the area to the left of the main path is good. Afterwards, pedal into the village for an ice-cream or a pineau de Charentes aperitif at welcoming Bar à Quai.
Stay Les Grenettes (doubles from €110 room-only) is a family-friendly hotel with two pools.
Montmartin-sur-Mer, Normandy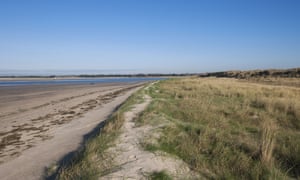 The south-west of Normandy's Cotentin peninsula offers some glorious beaches that remain something of a secret except to locals and visitors in the know. The best of the bunch is Montmartin-sur-Mer, a vast stretch of fine, white sand, backed by wild, grassy dunes, that is so big you're likely to have a mile of it to yourself – even in August. The tides in the bay of Mont-Saint-Michel are some of the strongest in Europe, which means at low tide you may not even see the sea, but it leaves the sand in perfect condition for grandiose sandcastle building.
Stay Le Castel (doubles from €140 B&B) is a family-friendly, 19th-century chateau a short drive from Montmartin-sur-Mer.
Villefranche-sur-Mer, Provence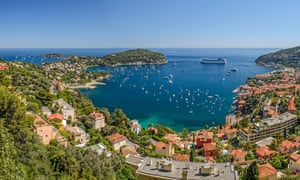 There's a multitude of private beaches on the Côte d'Azur, but it's possible to enjoy the sun for free on Villefranche-sur-Mer's two public beaches. The longer Plage des Marinières is at the end of the quayside, overlooked by the coastal railway. Spread your towel on its soft, yellow sand, and take a dip before bagging a terrace table, with the sand between your toes, at one of the many waterfront restaurants. The smaller, quieter Plage de la Darse, on the other side of town, is pebbly but just as nice a place to catch the late-afternoon sun or take a paddle.
Stay Welcome Hôtel (doubles from €149 room-only, welcome hotel.com) has sea views.
French beaches chosen by Carolyn Boyd
Italy
Fiorenzuola di Focara, Le Marche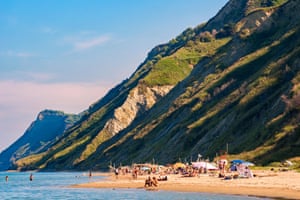 This walled village, mentioned in Dante's Inferno, sits in the Parco Naturale del Monte San Bartolo, and its beach is a 20-minute walk down zigzagging paths. But it is worth the effort to reach this unspoilt mix of sand and shingle – cliffs behind and the Adriatic in front, the only buildings in sight the roofs of Fiorenzuola above. It has a DIY vibe unusual in Italy, with sunshades made from driftwood. The walk back up stokes appetites for dinner.
Stay Hilltop Castello di Granarola (doubles from €85 room-only) has rustic rooms (some with kitchens) and a large pool.
Cala Violina, Maremma, Tuscany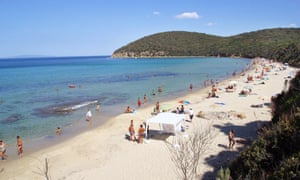 Named for the squeaky sound the sand makes, this idyllic cove in the southern Maremma is less crowded than it might be as getting there involves a half-hour walk from the (€7) car park – pushbikes are allowed, though. Set within a nature reserve, its pale sand is lapped by clear water and backed by wooded hills, and there's shade at its southern end. Beachgoers need to come with mats, umbrellas and other gear, but there is a kiosk selling drinks and sandwiches in summer.
Stay Those who don't mind a slightly longer walk can reach Cala Violina on foot from agriturismo Il Cerro Sughero (doubles from €85, apartments from €340 for four nights) which has a pool and restaurant.
Porto Giunco, Villasimius, Sardinia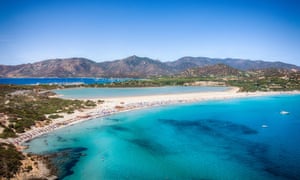 Pleasingly, the sand at Porto Giunco beach, which divides the Notteri lagoon (spot the flamingos) from the sea in the far south-east of Sardinia, has a delicate pink tinge from the granite rocks that surround it. There are a couple of bars with sunbeds at either end of this 800-metre beach, but the rest is spiaggia libera, where anyone can rock up with a towel and enjoy soft sand and gently shelving turquoise water. There are good views from the ruined watchtower at its southern end.
Stay Porto Giunco Residence (studios with kitchenettes from €58 a night) is in lush gardens a 10-minute walk from the beach.
Lido Fiori, near Menfi, Sicily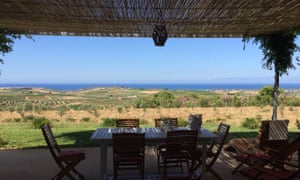 In Sicily's south-west, an arc of golden sand runs east from the fishing village of Porto Palo. The main road curves inland, and the quiet 10km beach is dotted with a few villas and a couple of bars. Loggerhead turtles like it: they've been nesting here since 2017, under WWF protection. The nicest stretch is Lido Fiori, halfway along. In early June, with highs in the mid-20s, rather than August's mid-30s, you don't even pay to park. My husband and son spent ages one afternoon trying – unsuccessfully – to divert a limpid stream that crosses the sand near excellent fish restaurant Salisá. The Greek ruins of Selinunte – as impressive as Agrigento but less busy – are half an hour west.
Stay Le 4 Stagioni has basic rooms from €70 B&B (and a good restaurant), but for a chic family break, check out new three-bedroom Villa Melograno (from €840 a week), a short drive away, with sea-view terrace and gardens.
Baia del Silenzio, Sestri Levante, Liguria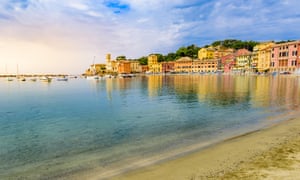 With cafes, shopping or sightseeing for those who don't want to lie in the sun, sometimes a town beach fits the bill. The name of this half-moon cove between Genoa and La Spezia – Bay of Silence – may be a bit optimistic, but it offers soft sand sloping gently into warm, sheltered water, with pastel townhouses and bobbing boats. Baia delle Favole, 200 metres away across a neck of land, is livelier, with bars, sports facilities and boats to hire. The popular Cinque Terre towns are 40 minutes away by train.
Stay With just five bedrooms, Locanda del Borgo (half-board from €70pp) makes a peaceful stay 10 minutes' drive away, with sea views and bikes to borrow. Chef Marcello cooks slow-food, zero-km versions of Ligurian specialities.
Italian beaches chosen by Liz Boulter
Greece
Voidokilia, Peloponnese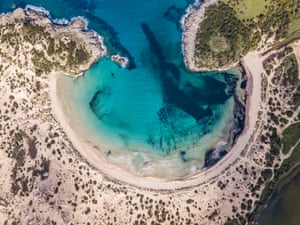 Normally a beach this good would be marred by development. Fortunately, the lagoon it backs on to is part of a nature reserve, and Voidokilia looks much the same as it must have done when it featured in Homer's Odyssey. This really is one of those "perfect crescents of white sand" – the Greek name means "cow's belly". As well as lovely swimming in the sheltered water, there's a cave, a castle ruin above the beach, and numerous birds, including flamingos, on the lagoon.
Stay In the village of Petrochori, half an hour's walk away, Petrasaki Cottages has simple self-catering chalets for four from €60 a night. Gialova village, the other side of the lagoon, has plenty of tavernas: Elia is great for seafood and local dishes.
Kaladi, Kythira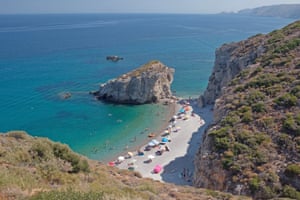 Kythira seems to have avoided the overdevelopment of some Greek islands thanks to it being a little complicated to get to (internal flight or boat trip). Some would argue that Kalami is the best beach on the island, but similarly named Kaladi is just as nice and avoids the scramble down a 30-metre cliff, although there are lots of steps. The reward is three perfect little pebble coves, uncrowded even in August, and unsullied by tavernas and cantinas.
Stay Great-value rooms with kitchen and balcony at Sotiris Tavern (€50) in the pretty village of Avlemonas leave plenty of money for its famous lobster pasta. Xenonas Fos ke Choros guesthouse (doubles from €100) is a beautifully restored set of old buildings with knowledgeable owners .
Paliochori, Milos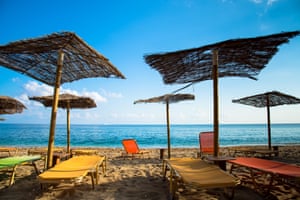 The spectacular cliffs that form a backdrop to this beach vary in hue from white through yellow to a burnt red, and also provide shelter from the winds that can spoil many beaches in this area. There are several bars and tavernas with sunbeds for hire vying for your trade, but the beach is large enough to soak up the attention. And as if the setting weren't enough, hot springs under the sea provide a free thermal spa. Stay Artemis hotel (doubles from €100 B&B) offers affordable luxury right on the beach. One of the best tavernas on Milos, Psaravolada, is just up the road.
Super Paradise, Mykonos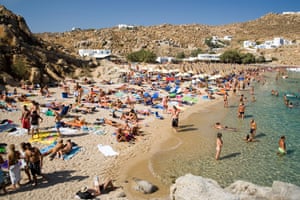 People go to Greek beaches for all sorts of reasons, and for some it is to party. Some places on Mykonos devoted to hedonism are truly grim, but not Super Paradise beach on the south coast. Golden sand, clear water and non-stop music and dancing make this the best hangout on the island – its famous club hosts all-nighters that attract hardcore partiers from all over the world. The nearby Jackie O' Beach Club & Restaurant, also on the beach, is the place to chill, with good food, drinks and drag queens.
Stay Mykonos can be hugely expensive, but camping with your own tent at Paraga Beach Hostel, just round the coast, costs from €30 a night for two.
Balos, Crete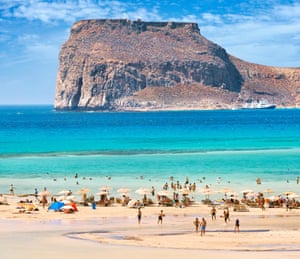 Crete has many world-class beaches, and some are getting overcrowded (there are rumours that the famous Elafonisi might start to restrict numbers). The white powder and blue lagoon water of Balos beach, at the tip of the Gramvousa peninsula in the far north-west, does get busy in the middle of the day when the boat trips arrive. The trick is to come early and stay late. This is easier said than done, as getting there involves a 12km drive on a dirt road followed by a 1km hike, but it more than rewards your effort.
Stay The starting point for the drive is the village of Kaliviani, home to Kaliviani Traditional Hotel (doubles from €65), with views of the Gramvousa.
Greek beaches chosen by Andrew Bostock, author of the new Bradt guide to the Peloponnese
Turkey
Çirali, Kemer, Antalya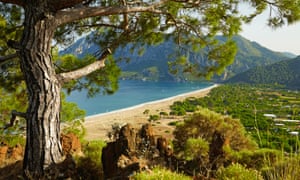 For the ultimate beach – the softest sands, which you can step straight on to – make for Çirali. Several miles of beach are backed by orange groves and shady gardens hung with hammocks and lanterns, and dotted with the discreetly low-density holiday cabins of hotels like the Arcadia. It offers fabulous breakfasts and bikes for exploring the nearby village, a place with a fierce environmental commitment, where the order of the day is salads, filled gözleme flatbreads and beer on shaded timber platforms. Walk the beach to the west end where a riverside footpath leads past a ticket office, sometimes manned, into the fig-strangled ruins of ancient Olympos. Or bike and hike out to the mysterious Chimaera, where flaming gases vent from a myth-haunted hillside.
Stay Arcadia Beach (doubles from £105).
Kabak, near Uzunyurt Köyü, Muğla
The tarmac ends above Kabak, where a 4WD shuttles visitors down a precipitous mountain track. The raised hair is worth it: at the bottom there's a hidden sand and shingle beach, yoga platforms, driftwood juice bars and the lingering scent of patchouli. This legendary Shangri-la has been at the heart of the Turkish Med's alternative scene for decades, but rather than being exclusively a hippy hangout, Kabak's always been open to all-comers. Discovered in recent years, Kabak nevertheless retains a rare beauty, largely because of the care of its devotees and the forest behind the beach, which is home to delightful Crusoe-style camps like Turan's. Famed for diverse fauna and flora, especially its turtles and butterflies, Kabak is also popular with hikers, who use it as a base for exploring local trails and the long-distance Lycian Way.
Stay Turan Camping has deluxe tents on wooden platforms (from £34 a night for two half-board) and also houses and bungalows.
Iztuzu, Dalyan, Muğla
By valiantly fending off every last developer, this vast delta beach has survived as a spectacular stronghold for the endangered loggerhead turtles which nest here on summer nights when the beach is off-limits to visitors. Despite lines in the sand which mark where the parasols and the sun loungers stop – the environmental rules are strictly observed – there's plenty of room on this famously golden and family-friendly strand. The beach is reached from the town of Dalyan, where the local boatmen's cooperative runs regular shuttle services, which take half an hour to wind through the reed beds. The beach facilities – changing rooms, freshwater showers and a cafe – are decidedly simple, and the nearest overnight accommodation is in Dalyan's likably no-frills riverside pensions. Other local draws include the ancient city ruins at Kaunos, where major excavations have been taking place, and wallowing in the open-air thermal mud baths.
Stay Dalyan Pansion (doubles from £39)
Patara, Kalkan, Antalya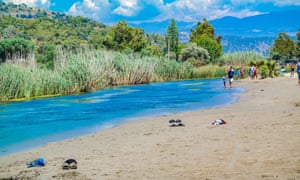 For more than 10 miles, the dune-backed sands of Patara beach run pristine and uninterrupted, with no structures more permanent than the palm-roofed facility shacks – with showers, changing rooms and cold drinks – at either end. There are loungers and parasols are for hire at the east end, which is served by shuttle minibuses from Kalkan – a bustling holiday port that's just a 15-minute drive away and home to one of the Turkish Med's most delightful, if a little pricey, boutique hotels, Villa Mahal. There's a modest entrance fee, plus a supplement for visitors to the must-see ruins of Roman Patara, and what may be the world's oldest standing lighthouse, among other historic marvels. Those with their own transport may wish to follow the locals to the more remote west end at Karadere (no fee), where extended families stage spectacular barbecues among the dunes.
Stay Türk Evi(doubles from £35) is in the old part of town.
Akvaryum, Bozcaada, Çanakkale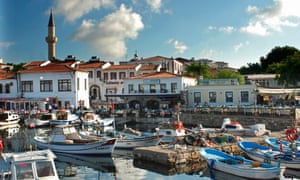 Bozcaada is one of just two Turkish islands in the Aegean, with some of the region's best sand beaches, and a must for visitors to nearby Troy and the battlefields of Gallipoli. It's a small island, just a few miles long, so hire a bike to take in a few beaches – the locals tend to make for the sheltered ones, depending on the day's wind direction – but be sure to get to Akvaryum. Named for the clarity of its shallow waters (it means aquarium), and bookended by miniature headlands, Akvaryum also boasts impressive legendary associations as the place where the Greek fleet hid while waiting for the Trojans to fall for their wooden horse ruse. Regular ferries make the 30-minute crossing from mainland Geyikli to the handsome Ottoman port, where attractive townhouse accommodation can be found.
Stay Latife Hanim Konağı (doubles from £49).
Turkish beaches chosen by Jeremy Seal
Croatia
Maslinica, Šolta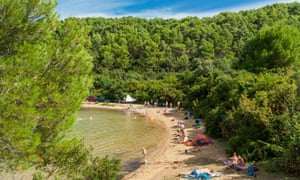 The island of Šolta hides in plain sight: it's a short ferry ride from Split, yet it receives only fraction of the visitors that head to big-hitting neighbours Hvar and Brač. Tucked into its western end is the fishing village of Maslinica, with a smart little marina and a cute, pebbly beach at the mouth of the harbour. It's big enough for a beach cafe, kayak rental and a few sunloungers, but still has an intimate village feel. And its western aspect means extraordinary sunsets. Just beyond the beach is an archipelago of seven small islands, which can be explored via kayak or boat.
Stay Villa Berg (from €80 a night sleeping four) has two well-equipped apartments near the beach, with sea-facing balconies.
Valun, Cres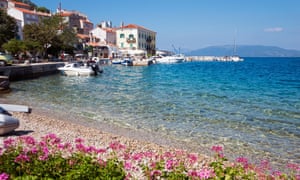 Sleepy doesn't begin to describe Cres. Despite being one of Croatia's biggest islands, it has little development along its long indented coastline. In the small hamlet of Valun in the west of the island, a path leads from the harbour to the pebble beach. Pine groves offer shade and shelter and there are paddleboards, kayaks and sunloungers to rent, and the atmosphere is as chilled-out as the rest of the island. Lunch in the village on superior fish in the harbourside restaurants.
Stay Waterside restaurant MaMaLu also has basic rooms upstairs, some with a terrace (doubles from €60 room only).
Čikat Bay, Lošinj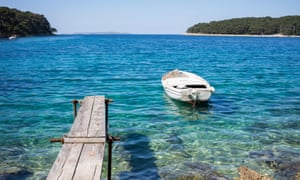 Čikat Bay was the preferred holiday destination of Austro-Hungarian emperor Franz Josef in the 19th century: he was very taken by its exceptionally fresh air, scented by pine forests and wild herbs. The bay is still enticing, its deeply indented three prongs sheltering tiny pebbly coves, as well as a partially sandy beach, a mini marina and some very grand hotels. It's a proper family affair, with play areas, cafes and watersports, and a pine-shaded cycle trail/footpath hugs a fair chunk of the island.
Stay Villa Diana (doubles from €110 B&B) is a handsome four-star hotel on the waterfront, with sea views and a restaurant terrace.
Blaće, Mljet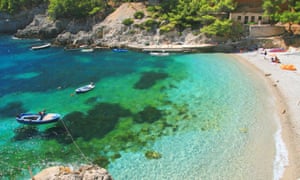 One of the Adriatic's greenest islands, Mljet also has that rare thing in Croatia: sandy beaches. Just 20 minutes' walk from busier Saplunara beach is the more tranquil Blaće, in sheltered Limuni Bay in the south-east of the island. Pine trees provide a cooling backdrop to the warm, shallow waters, which feel more like a lagoon. There are no beach facilities – they're back in Saplunara – but there is a sense of peace.
Stay Simply furnished Apartments Pavlić (from €38, sleep three) are in Saplunara village, overlooking the beach.
Murvica, Brač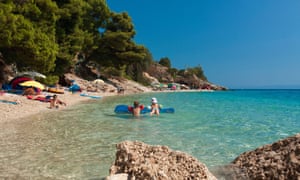 Just a few kilometres west of Croatia's most recognisable beach, the V-shaped Zlatni Rat, there's a much quieter scene at Murvica beach. Take the path from Murvica village down the hill past olive groves and vineyards to the shingle beach backed by fragrant pines. There are no crowds or neat rows of sunloungers here, just a rustic beach cafe, views of the island of Hvar and clear blue-green water.
Stay In an attractive stone house, apartments at Murvica Bol House (from €65 a night, sleeping five) all have barbecues and terraces with sea views.
Croatian beaches chosen by Mary Novakovich
The Baltic
Sopot, Poland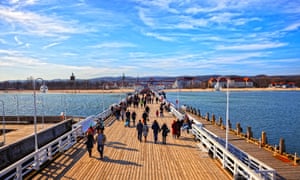 The bustling resort of Sopot is perennially popular and with good reason: it has one of the most beautiful stretches of sand in Poland and something for everyone – from families to party animals. The beach itself is a broad, well-looked-after strip that runs for several kilometres, backed by restaurants and cafes and a seaside cycle path that runs all the way to the port city of Gdańsk. The late-opening pier is good for catching sunsets, and fish-fry huts are a local speciality: the beachside Bar Przystań is famous for its seafood soup.
Stay Pensjonat Irena (doubles from £38 B&B) offers cute rooms on a leafy street.
Heringsdorf, Germany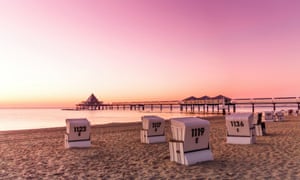 Built for 19th-century royals in search of sea air, this resort is a mix of belle-époque grandeur and small-town charm. Neo-classical buildings and manicured parks line a strip of gold-grey sand dotted with Strandkörbe, the two-person beach seats so characteristic of Germany's Baltic coast. Heringsdorf is on Usedom island, which boasts almost 20km of uninterrupted beach. Take in the panorama from the pier then pick up a snack from one of the numerous stalls at the landward end of Heringdorf pier, or head inland to Domkes Fischpavillon for fresh fried cod.
Stay A grand 19th-century pile on the seafront, Hotel Esplanade (doubles from €80 B&B) has bright rooms and an indoor pool.
Ventspils, Latvia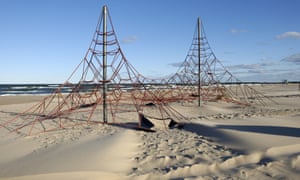 Blessed with a famously long and sandy coastline, Latvians are somewhat spoilt for choice when it comes to places to throw down their towels. Ventspils on the west coast has the advantage of being both a beach resort and a lively port city. The fine, silky sands are popular with kitesurfers in spring and summer, and year-round for amber-hunters – nuggets of the ancient resin are frequently washed up after storms. The beach is separated by a belt of dunes from an open-air museum, complete with narrow-gauge railway, an aquapark and the Children's Town activity playground.
Stay Raibie Logi (rooms from €58 B&B) has cosy doubles and family rooms in a charming timber house.
Võsu, Estonia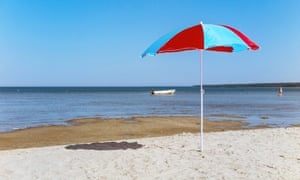 Set among the pines and reed beds of the Lahemaa national park, Võsu Bay is almost a relief after the long unbroken beaches that line much of the Baltic coast. With fine tawny sand between boulder-strewn promontories, the bay is exceedingly shallow, making it perfect for paddling and wading, and there's a smattering of food and drink facilities in summer. Võsu itself is a straggling low-rise village with bags of rustic appeal, and there are loads of exhilarating nature hikes right on the doorstep.
Stay Rannaliiv Guesthouse (doubles from €58 room-only) offers simple rooms in a nice garden near the beach.
Nida, Lithuania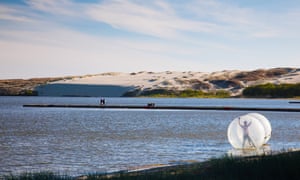 Beneath towering dunes on the south side of the Curonian Spit, the cute fishing village of Nida serves as summertime capital for Lithuania's arty elite. The beach is 3km from town on the opposite shore of the spit and has designated nudist and female-only sections, and a small children's activity park. It's everything that you would expect from a Baltic strand: long, straight, seemingly endless in both directions, and popular with sunbathers and paddlers during the short Lithuanian summer. Drinks and snacks are limited – save your appetite for the famously tangy smoked fish on offer in Nida itself.
Stay Nidos Seklyčia guesthouse (doubles from €50 room-only) has njoy the traditional furnishings and soothingly vegetal wallpapers.
Baltic beaches chosen by Jonathan Bousfield
This article contains affiliate links, which means we may earn a small commission if a reader clicks through and makes a purchase. All our journalism is independent and is in no way influenced by any advertiser or commercial initiative. By clicking on an affiliate link, you accept that third-party cookies will be set. More information.
We made a choice…
… and we want to tell you about it. We made a choice which means our journalism now reaches record numbers around the world and more than a million people have supported our reporting. We continue to face financial challenges but, unlike many news organisations, we have chosen not to put up a paywall. We want our journalism to remain accessible to all, regardless of where they live or what they can afford.
This is The Guardian's model for open, independent journalism: available for everyone, funded by our readers. We depend on contributions from our readers. Will you support our choice?
Readers' support powers our work, safeguarding our essential editorial independence. This means the responsibility of protecting independent journalism is shared, enabling us all to feel empowered to bring about real change in the world. Your support gives Guardian journalists the time, space and freedom to report with tenacity and rigour, to shed light where others won't. It emboldens us to challenge authority and question the status quo. And by keeping all of our journalism free and open to all, we can foster inclusivity, diversity, make space for debate, inspire conversation – so more people have access to accurate information with integrity at its heart.
Guardian journalism is rooted in facts with a progressive perspective on the world. We are editorially independent, meaning we set our own agenda. Our journalism is free from commercial bias and not influenced by billionaire owners, politicians or shareholders. No one steers our opinion. At a time when there are so few sources of information you can really trust, this is vital as it enables us to give a voice to those less heard, challenge the powerful and hold them to account. Your support means we can keep investigating and exploring the critical issues of our time.
Should you move or renegotiate your rent in Dubai. To know more goldwellestate.com